It is a huge pleasure to bring to the pages of Perpetual Passion an exclusive interview with Peter Harrison, CEO for the EMEA market of none other than Richard Mille!

To be specific, Peter is the CEO of Richard Mille EMEA, a joint venture founded in 2006 between Horometries SA (the company that owns the Richard Mille brand) e Redgrave Luxury Ltd, Peter's company, to distribute RM watches in the EMEA region. This partnership has proved to be a huge success, the brand has grown considerably since the beginning of this collaboration (+ 111% in 2013) thanks to two factors: the close relationship between the companies involved and the willingness to intelligently reinvest the profits from from sales, opening exclusive boutiques in EMEA countries.
This interview is divided into 4 macro-topics, each of which contains 3 to 5 questions: Peter Harrison, Richard Mille's technology and collections, Richard Mille's market and Richard Mille's world.
PETER HARRISON
ANDREA FRIGERIO
Peter, does your leadership role at Richard Mille allow you to have decision-making power in the product development phases or are you focused only on marketing, distribution and related areas of the business?
PETER HARRISON
Since I work side by side with Richard, I am aware of the ideas he is developing and we discuss how the watch will perform in different markets, but it is he along with Dominic Guenat, the co-founder of Horometrie, and the his team who develop the various models.
ANDREA FRIGERIO
What is your favorite RM? (The answer "next" is not valid)
Is there an MRI you are particularly attached to? Because?
PETER HARRISON
I love my RM 004 All gray. The RM 004 is the Richard Mille with perfect proportions in my opinion
ANDREA FRIGERIO
Is there a chance to make a career within Richard Mille? What are the characteristics that you would like the future managers of the brand to have?
PETER HARRISON
Although the company has grown significantly over the past 10 years, the team still works as if it were one big family. We know each other well and I have direct contact with everyone. Our staff have been working together for a long time, some people for even more than ten years! It is very important for me to maintain this human contact with my collaborators.
I am interested in finding people whose personality blends well with this family spirit, people who have an open mind and strategies appropriate to the brand, since we work differently from other brands.
ANDREA FRIGERIO
What is your opinion on independent brands?
PETER HARRISON
I think they are very important for our industry. They carry on their vision and inspiration of the watchmaking world by offering something different from all other brands. Their volumes are quite small and are specific to a certain type of clientele.
ANDREA FRIGERIO
In your opinion, what is the characteristic that has determined Richard Mille's success? In my opinion it is the comfort it guarantees on the wrist, do you agree?
PETER HARRISON
Indeed, the comfort of our watches is undeniably an asset. We are the only brand that offers this curvature of the surfaces, from the case to the sapphire crystal. This allows the watch to adapt to its user and not the other way around.
I would also like to mention the innovation in our materials since we have several patents developed with the best companies in different sectors, such as Graph TPT ™, an alloy of Graphene and Carbon TPT ™. Graphene was developed by the University of Manchester and the researchers who discovered it were awarded the Nobel Prize in Physics in 2010. Richard Mille joined forces with NTPT and Mclaren to develop Graph TPT ™ by bringing Graphene together. with Carbon TPT ™; the result of this partnership was the lightest rattrapante tourbillon chronograph ever produced, which weighs only 40 grams including the strap (RM 50-03 Mclaren).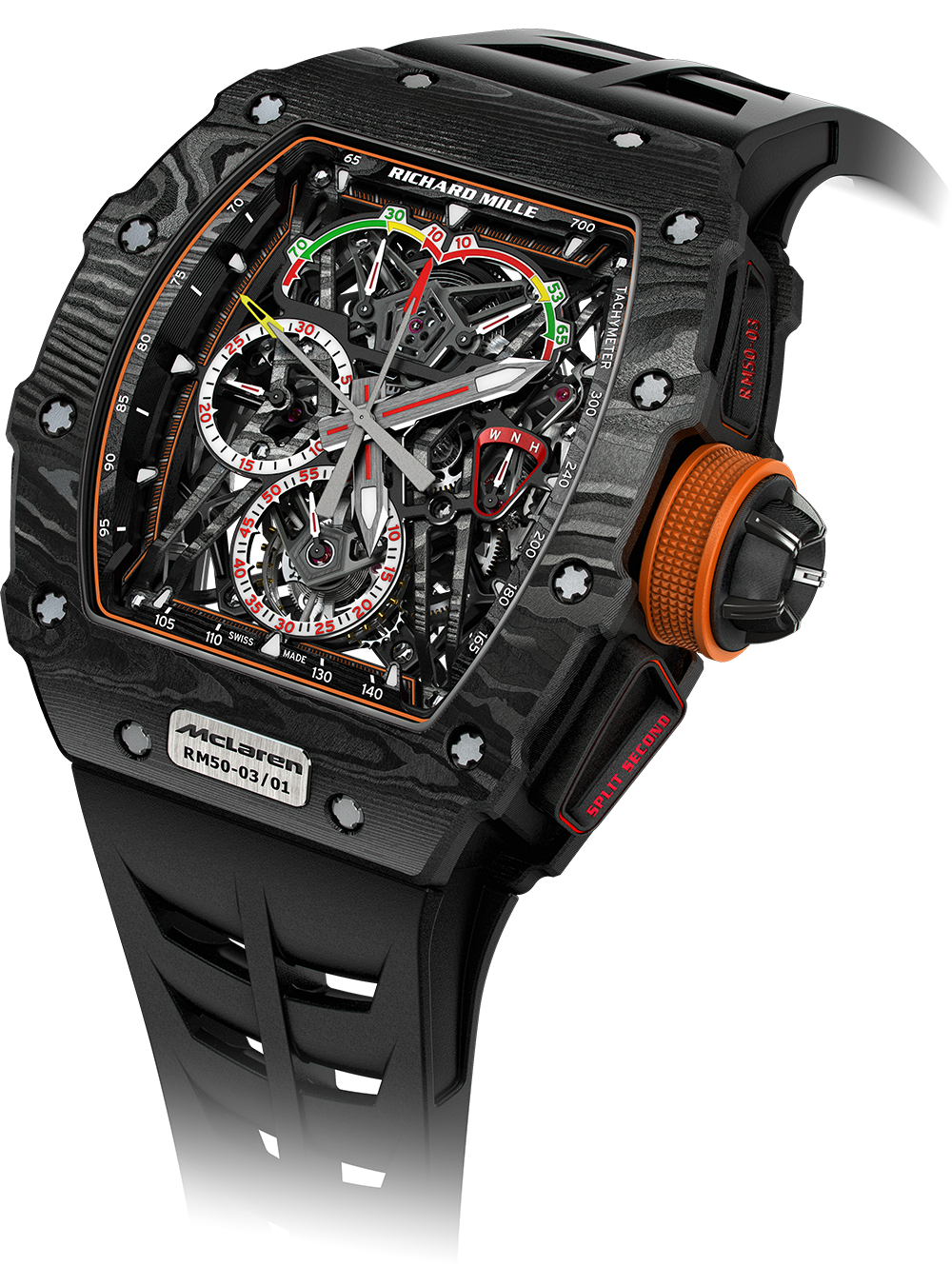 RICHARD MILLE'S TECHNOLOGY AND COLLECTIONS
ANDREA FRIGERIO
Since 2001, with the market launch of the RM 001 and 002, Richard Mille has marked a very important step in the history of watchmaking. We can easily talk about the "pre-" and "post" Richard Mille phases. What do you think of other brands that have started to take inspiration and follow the philosophy, shape and materials used in your watches? (Audemars Piguet, Hublot, ...)
PETER HARRISON
Each brand has its own unique characteristics which allows it to have its loyal customers. We work closely with Audemars Piguet Renaud & Papi to develop our tourbillons, which is why you may see some similarities in our movements.
ANDREA FRIGERIO
The introduction of TPT technology, through the partnership with NTPT in 2013, was a sensational revolution for the sector and today you are still introducing it on all collections even using different colors. What will be the new great innovation for Richad Mille?
I have noticed several interesting solutions in recent years that have never been extended to many models, for example the magnesium alloy used for the case of the RM 038 or the shatterproof glass of the RM 53-01. Is there a chance to see them again in the future?
PETER HARRISON
We want to be the leaders in material innovation since the essence of our watches is to be used in everyday life, whether you are a professional polo player, a navigator or a Formula 1 driver. customers can wear our watches both in extreme conditions and in the city. This is the reason why we have worked on several patents developed both in-house and with our partners. Each material we implement has a specific purpose and this is the reason why we sometimes see that one of them is used for perhaps only one model. This, of course, does not mean that we cannot reuse or adapt it in the future for other references.
The factory is working on some very interesting projects that will be launched in the coming months or years, but as you know we like to be where we are not expected to be and we keep silence until the very end.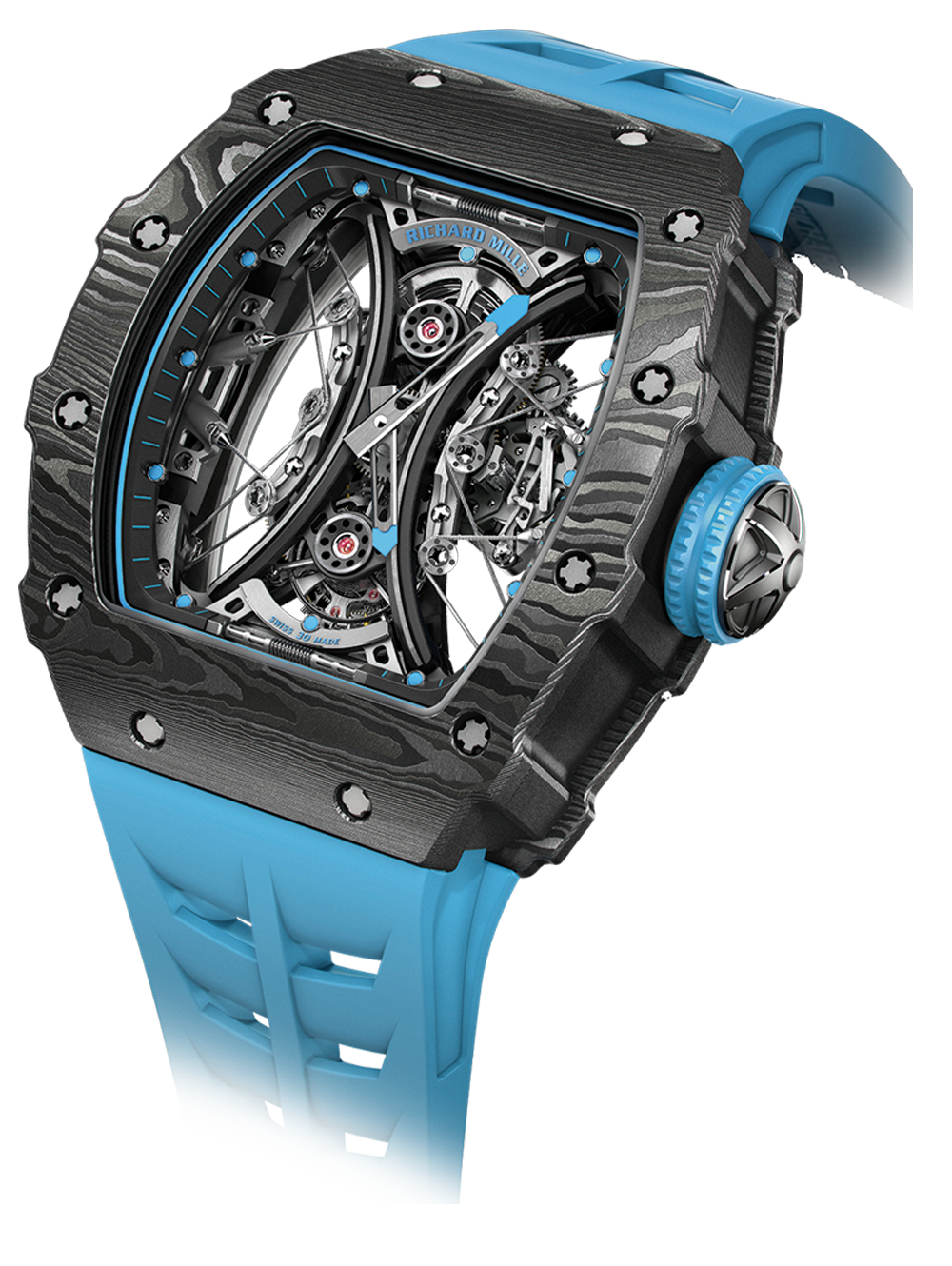 ANDREA FRIGERIO
As happened with the automotive industry, there are some independent brands that have begun to explore the possibility of creating "hybrid" watches (eg Ressence). These watches have a mechanical heart but also servo-motors, sensors and micro-actuators that allow the watch to be controlled via a smartphone. Do you think this could be a road for Richard Mille's future and for haute horlogerie in general?
PETER HARRISON
At Richard Mille we want all of our watches to remain mechanical, so at the moment this solution is not on the agenda. There are brands that have already introduced electronics since it was the right time for them to do so, but this is not the path we want to take at the moment.
ANDREA FRIGERIO
The Bon-Bon collection presented at SIHH 2019 generated a lot of noise. Did you manage to sell the entire collection? Have you had a good return on your image? Is this a classic example of big noise generating big traffic?
PETER HARRISON
We like to be where we are not expected to be and the Bon-Bon collection is a clear example of this approach. Cecile Guenat designed this collection taking inspiration from the classic RM 037, RM 07-01 and RM 016 automatic models. Some components, such as the RM 07-01 crown, reminded her of a bon-bon, so she developed this idea using colorful and joyful themes. The collection was already almost sold out during SIHH 2019, now it is completely sold.
THE MARKET OF RICHARD MILLE
ANDREA FRIGERIO
What is Richard Mille's most important market? Which are the countries in which you would like to open a boutique?
PETER HARRISON
The Europe, Middle East and Africa area is one of the main markets for the brand. We have 14 boutiques divided between Paris, Moncao, London, Monaco, Geneva, Milan, Doha, Istanbul, Riyadh, Jeddah, Dubai, Abu Dhabi, Beirut and Kwait.
At the moment we are developing the Middle East market with the recent openings in Doha, Kwait City and we are close to opening also in Jeddah and Riyadh. We are focusing on these countries.
ANDREA FRIGERIO
Many brands have begun to partially convert their sales strategy using e-shops. Cartier, for example, has been doing this for many years already but recently Patek Philippe has also authorized a small circle of retailers to behave in the same way (due to the COVID-19 situation). Do you think Richard Mille could also use similar strategies in the future? Perhaps through an online drop that gives the possibility of buying a certain reference in boutiques as happens for the sneaker market. What is your opinion about it?
PETER HARRISON
We are not interested in selling online as Richard Mille watches need to be explained and presented for customers to understand the technology and research behind each model. There are pieces that need a wrist test to perceive their comfort and to be seen live to understand the level of detail they hide. In addition, due to our limited production (we are aiming to produce 5 watches this year) it becomes difficult to sell online and physical boutiques are much more appropriate for us.
ANDREA FRIGERIO
It is well known that many retailers manage to have many limited editions of Richard Mille, including those of 5-10 pieces which should be reserved for highly select customers, reselling them with significant price increases. How do you fight this phenomenon? How do you deal with customers who delay Richard Mille's trust by reselling their watches immediately after a few weeks or months of purchase?
PETER HARRISON
We have a very painstaking process of due diligence in the EMEA market that we have developed in the last few years since we opened our boutiques. This ensures, or at least proves, that our authentic customers get the watch they want. We expect this approach to be replicated around the world.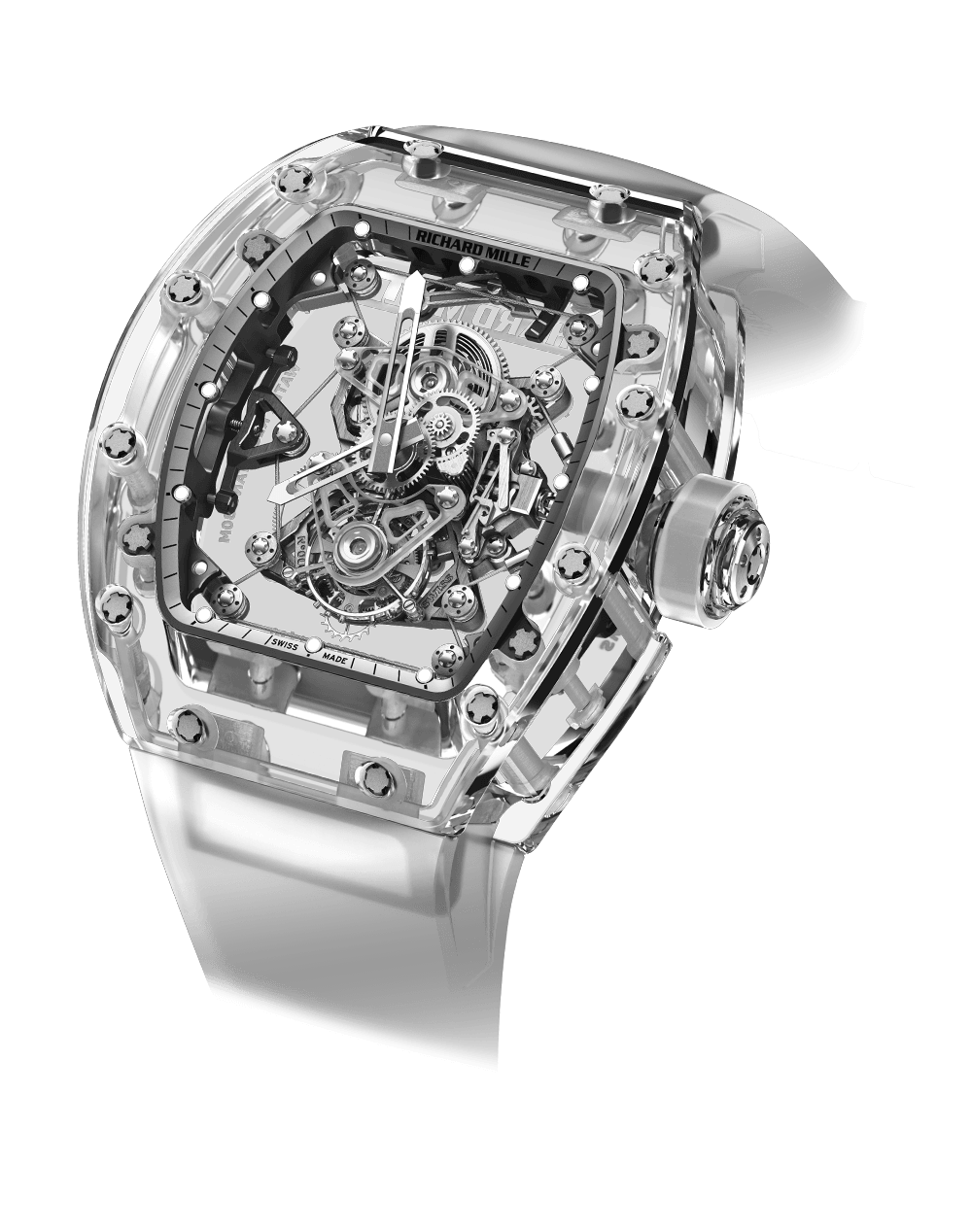 ANDREA FRIGERIO
Are there any models you want to sell more than others?
PETER HARRISON
We have no problem selling pieces, our problem is finding availability to meet the demand, so we don't have any specific pieces that we want to be sold more than others.
THE WORLD OF RICHARD MILLE
ANDREA FRIGERIO
What is the most important Richard Mille event? Le Mans Classique or Les Voiles de Saint Barth?
PETER HARRISON
They are both events of prime importance for the brand but very different from each other. Le Mans Classique takes place on the iconic and historic Le Mans circuit and includes some of the most exclusive classic cars in the world in a 24-hour race. It's a mix of different challenges; the first is for drivers who have to drive day and night and the second is for cars, given their age and the inevitable mechanical damage that can occur.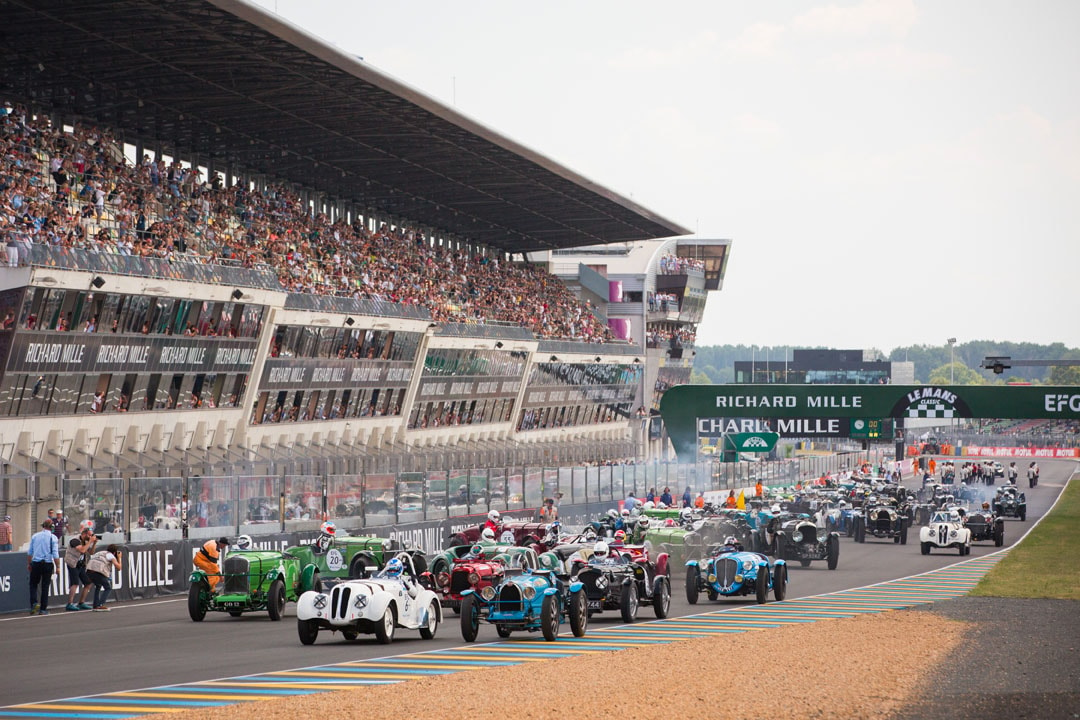 Les Voiles de Saint Barth, on the other hand, is one of the most prestigious regattas in the Caribbean. He has helped promote the island over the years and manages to totally fill it during the event. It allows passionate and professional sailors to discover this Caribbean pearl from the coast. Personally, I am very fond of this event since I have been taking part in it since 2013.

The common point for both is the importance of timing the time during the competition, which is one of the main reasons why we decided to become a partner of these events. They are the perfect representation of durability and resistance, two of the main characteristics for which we develop our watches.
ANDREA FRIGERIO
Is Richard Mille closer to the world of Formula 1 or to the nautical world in your opinion?
PETER HARRISON
Richard Mille is closer to motorsport, after all our slogan is "a racing car on the wrist". This comes from the fact that Richard's experience began with the automotive industry and has remained his main passion. He often takes inspiration from the world of motorsport, he sees the functioning of the clock as a machine; each element must be useful and must contribute to performance. We can also see this correlation in the materials we use, often from motor racing.
To be sure, even boating uses similar materials in terms of innovation and performance. We have introduced composite materials such as Carbon TPTTM, which stems from a development with North Thin Ply Technology (one of the Noth Technology Group companies) and the inventors of the 3Di ™ technology for North Sails' grand prix yacht racing.
ANDREA FRIGERIO
How do you select Richard Mille ambassadors? Are you going to find new characters who come from different backgrounds than the world of sport or cinema?
PETER HARRISON
Our partners come from different disciplines. We are not looking for a specific sport, but we need athletes to wear our watches during training and competitions because this allows us to develop them in partnership with them in order to improve their endurance and performance. Most of the time the partnership arises from a relationship with Richard or with one of the CEOs of the various markets. We don't like long-term contracts and we prefer "gentleman's agreements" to real ones.
As a journalist and fan of the brand, I would like to thank Richard Mille and Peter Harrison for granting us this exclusive interview!